Supper clubs (also known as closed-door or in-home restaurants) have moved on. Whereas details used to be passed by word of mouth, now everyone wants to take part and they have become easier than ever to attend, and even host. EatWith.com looks set to lead the way in this next phase, with its online directory of people around the world willing to invite you around for dinner for a small fee (15% of which goes to the site). Its solid base of listings include a tasting menu in the Barcelona home of a chef with Michelin-star restaurant experience (£44), a homemade pizza night with a family in Naples (£20) and a simple language exchange with homemade pastries in Buenos Aires (£6).
The site started out slowly by focusing its efforts on Israel (where it is based) and Spain, but has quickly moved on to include the UK, France, Spain, Italy, Argentina, Brazil, Germany and the Netherlands. This month, it expanded further to include Peru, Japan, Mexico, Croatia and six other countries, including the US (previously it only covered New York). It's not the first of its kind (see also Dine with Locals, Eat with a Local, Clandesdine) but does have one of the most professional looks, with a clear, user-friendly design. Promising newcomers EatMyWorld (currently UK only, expanding soon) and Bookalokal have also got off to a good start, with interesting listings, including this 12-course Goan feast for £25.
Everywhere you look on the web there is someone touting themselves as the "new Airbnb" of one thing or another, but EatWith seems to have followed this tried-and-tested model fairly closely and could reap the rewards. As with Airbnb, it has made steps to address people's safety concerns, including offering a guarantee via a third-party insurance company (Airbnb has one too, although it has come under scrutiny). And just as Airbnb sends photographers to its properties, EatWith sends a employee to "verify" the host: checking the venue, the food quality and the host's interpersonal skills. It's not an environmental health inspection, but it's something. And crucially, you can't just upload your event details: you have to apply to be a host. EatWith has received 2,000 applications so far, with 300 making it on to the site (the vetting process takes a while, which weeds out some of the less-committed hosts).
It's a tricky area this peer-to-peer hosting, as Airbnb has found after few mishaps, but EatWith seems to be trying hard to get things right and establish itself as a leader in its field. Let's see if it pulls it off, and, in the meantime, enjoy some potentially interesting dinners in other people's homes.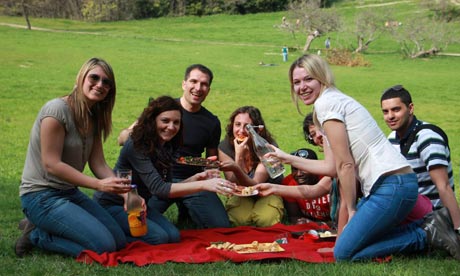 Kitchen Party moves into the park, with a group picnic
All the best house parties end up with a throng of guests hanging out in the kitchen: that's the idea that inspired Kitchen Party. If you fancy going to a house party – or maybe a picnic or a barbecue – while visiting a different country, then this is the site for you. Users list their proposed gathering, setting a minimum and maximum number of guests, and all other members can click to attend, without charge. The set-up is not dissimilar to the long-established MeetUp.com, which can also be a good resource for sociable travellers. Up until now, it has been most successful in the countries where the founders have lived – Italy and Argentina – but it is gathering traction further afield, including other parts of Europe and Chile.
Want a bespoke travel experience? Try Tripbod. This site has been through many evolutions, starting as YourSafePlanet back in 2007, and now seems to have carved out a niche by offering the services of "Tripbods": people who are willing to help out a visitor for a fee. Its online "marketplace" remains an untapped resource for many travellers, including hundreds of people willing to plan your itinerary, take you on a tour, or offer you a meal in their home.